With continued dedication to creating a system of simultaneous renewal through collaboration and partnerships, faculty from Teacher Education have worked for the past two years to develop a number of professional development school (PDS) partnerships.  These collaborations are meant to increase student achievement, improve training of future educators, and create opportunities for professional development of teachers.  The Wright State coordinator for each site is committed to working with the school to provide support, development, and connections to resources, and will assist with collecting data for analyzing student achievement.
An agreement with the newest PDS, Horace Mann Elementary, was signed during the Spring of 2013.  Michelle Fleming will be the site coordinator.  Partnerships already in place include the Dayton Regional Stem School (DRSS), with Brian Boyd as the site coordinator; and the Dayton Boys Preparatory Academy, with Anna Lyon as the site coordinator.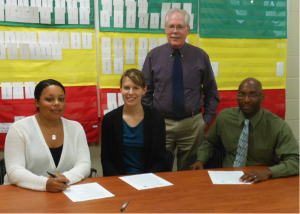 Horace Mann PDS Agreement Signing with Megan Winston (Principal); Michelle Fleming, WSU; Jack McKnight, WSU; David Lawrence Dayton Public Schools.